Marc Mellon Sculpture Studio - News From the Studio
Artists' Fellowship Annual Award Dinner
Honors Babette and Marc with
Benjamin West Clinedinst Memorial Medal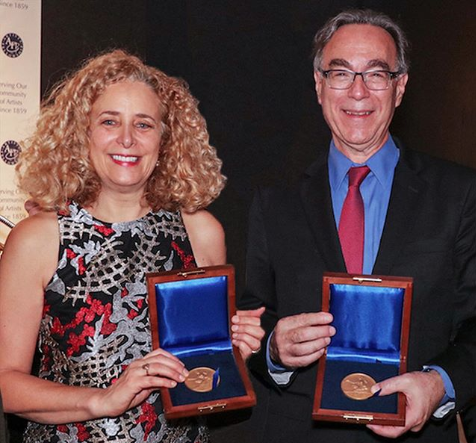 On October 22nd the Artists' Fellowship, Inc., a 159 year old foundation that assists professional fine artists and their families in times of emergency, honored Babette Bloch and Marc Mellon with the Benjamin West Clinedinst Memorial Medal at their annual awards dinner. Brookgreen Gardens and our dear friend, Brookgreen's VP and Curator of Collections Robin Salmon, were honored with the Gari Melchers Memorial Medal.

"As this year's artist honorees we are humbled by this award as it comes from our peers, and adds our names to a long and illustrious list of artist recipients." Mellon said. The medal's historic purpose is to recognize exceptional artistic merit and dedication to the artist community. Bloch added, "As past presidents of the Fellowship we are acutely aware of the import of the Artists' Fellowship's contributions to our community of artists."

Below is a short video about Bloch's and Mellon's work that was played at the beginning of the awards dinner, featuring Peter Trippi, Editor of Fine Art Connoisseur Magazine, Boomer Esiason, CBS and WFAN Sports Commentator, Kevin McKenzie, Artistic Director of American Ballet Theatre, Robin Salmon, Brookgreen Gardens Vice President for Collections and Curator of Sculpture, and Bob Scinto, Collector and Developer.
.
The 2019 NBA Awards
JULY 2019
Congratulations to Giannis Antetokounmpo on winning this year's NBA MVPs Trophy, and to Mike Conley Jr. on winning the Twyman-Stokes Teammate of the Year Award. Congrats too to the Milwaukee Bucks and the Memphis Grizzlies organizations. I'm proud to produce these yearly for the NBA.
Congratulations to Delle Donne, the seven-year veteran, who has won her second MVP award and become the first player in WNBA history to earn the honor with two different teams. She was also selected as MVP in 2015 as a member of the Chicago Sky.
As the Mystics' first MVP winner, Delle Donne joins five other WNBA players who have multiple MVP trophies. Lauren Jackson, Lisa Leslie and Sheryl Swoopes have all been named MVP three times, while Cynthia Cooper and Candace Parker have won the award twice each. The award by noted sculptor Marc Mellon is presented annually. To see a list of all previous winners click here.
NEW BUST OF ELIE WIESEL
Elie Wiesel Plaza, Bucharest, Romania

Dedicated October 9, 2018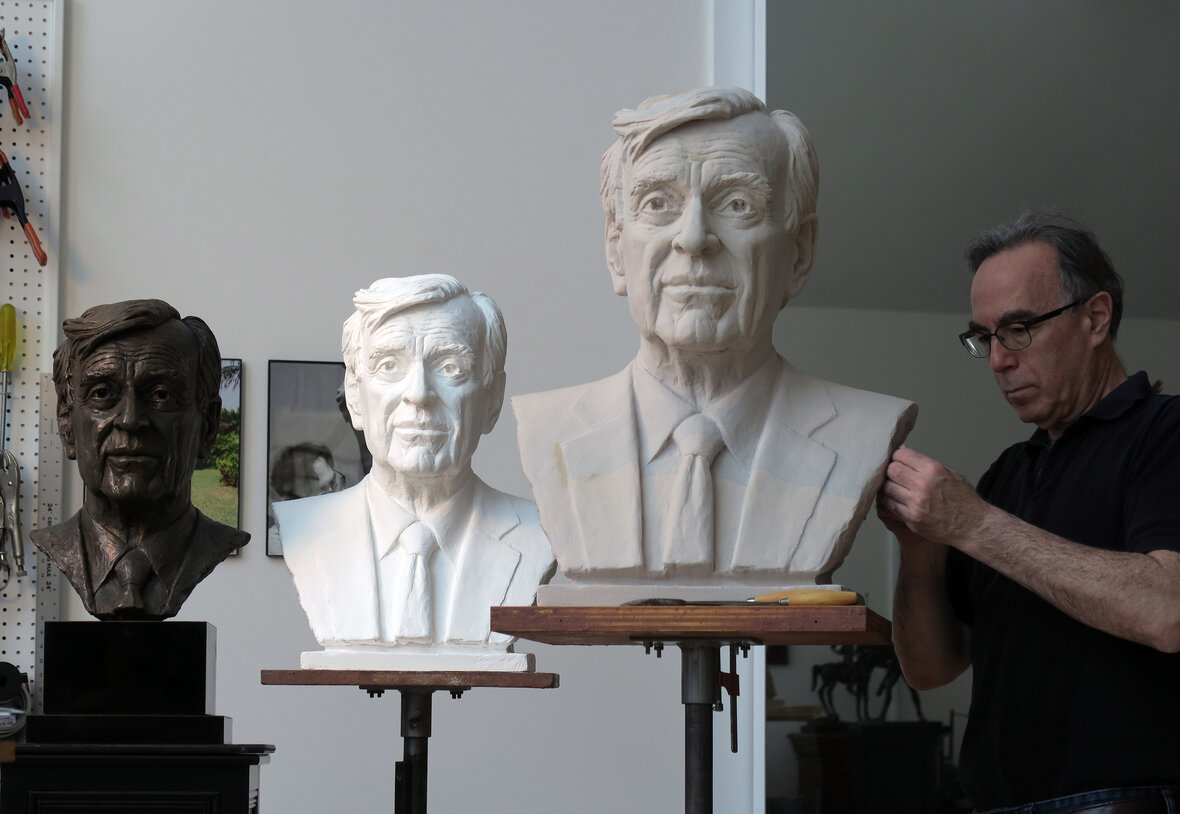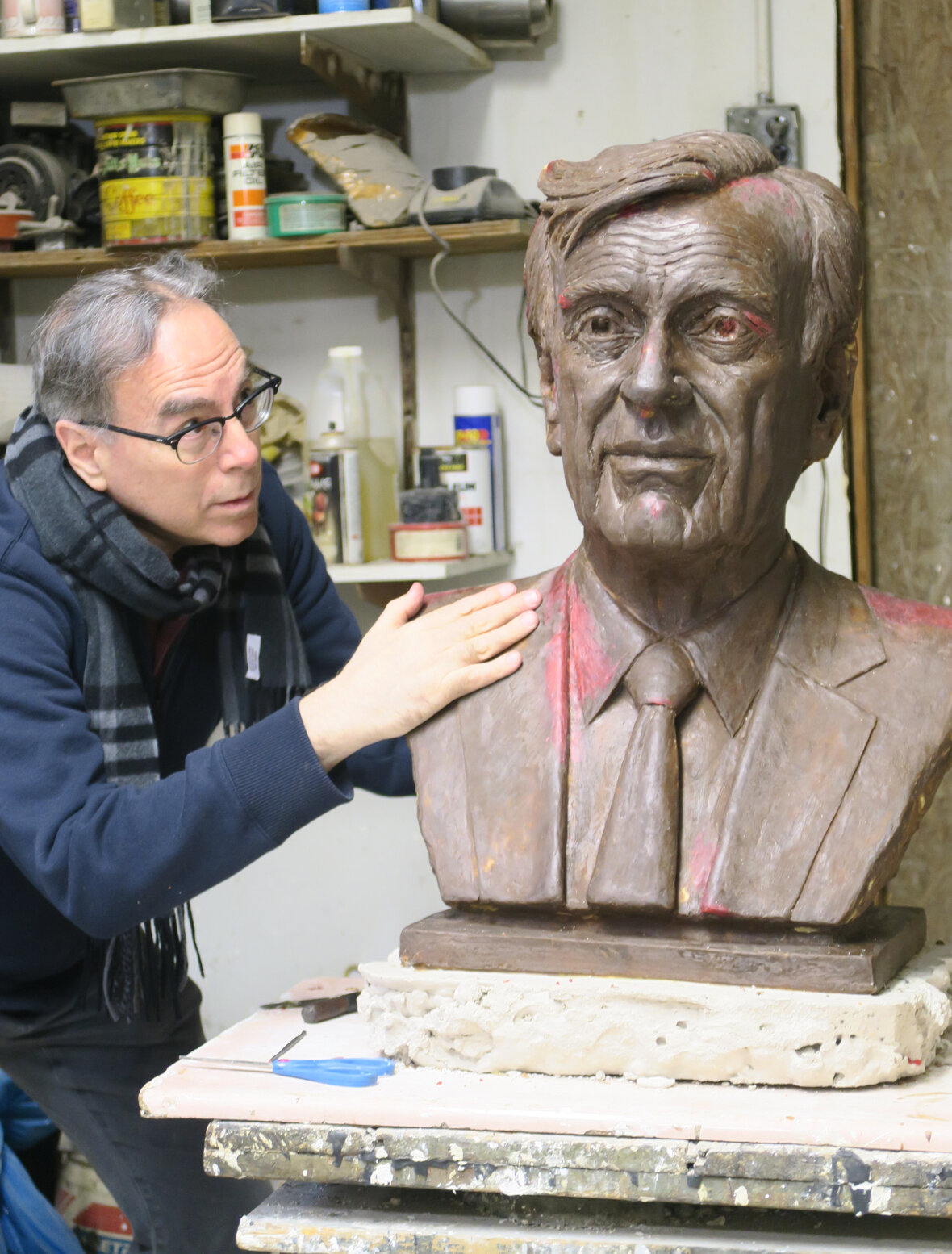 On October 9, 2018, Holocaust Remembrance Day in Romania, a bust of Elie Wiesel was dedicated in Elie Wiesel Plaza, Bucharest. The project was supported by Marion Wiesel and the Elie Wiesel Foundation for Humanity, the Mayor of Bucharest, the "Elie Wiesel" National Institute for the Study of the Holocaust in Romania, and the United States Holocaust Memorial Museum in Washington, DC. The large-scale bronze bust was sculpted by Marc Mellon, who enlarged and reworked the original portrait bust he had created from life sittings with Elie Wiesel in Mellon's New York City studio.
The 2018 NBA Awards
JULY 2018
Congrats to James Harden on winning this year's NBA MVPs Trophy, and to Jamal Crawford on winning the Twyman-Stokes Teammate of the Year Award. Congrats too to the Houston Rockets and the Minnesota Timberwolves organizations. I'm proud to produce these yearly for the NBA
The abt 2018 golden circle luncheon
The abt 2017 golden circle luncheon
La Bayadère, ABT principal dancer Hee Seo

ABT principal dancer Hee Seo at ABT dance studio, NYC, posing for
La Bayadère, pictured below in bronze, Limited edition of 12
Battement a la Seconde, ABT Soloist Cassandra Trenary
ABT Soloist Cassandra Trenary in Mellon Studio, Redding, CT, modeling for Battement a la Seconde, pictured right in bronze, Limited edition of 12
Ed hajim statue unveiled, university of rochester
OCTOBER 7, 2016
On Friday, Oct. 7, alumni, faculty, staff and students came together to honor Chairman Emeritus Hajim and to say "Thanks, Ed" for his many contributions to the University over the years. At the event, the Edmund A. Hajim Science & Engineering Quadrangle was officially dedicated, and a new eight-foot statue of Hajim was unveiled.
The ABT 2016 Golden circle luncheon
SEPTEMBER 8, 2016
Mellon exhibits ballet bronzes created in COLLABORATion WITH
the elite dancers of American Ballet Theater
Congratulations Steph Curry
May 2016
Congratulations Steph Curry on your second NBA MVP Trophy and for being the first athlete unanimously chosen for this coveted prize!
Bust of Pre-eminent Author and Journalist
Tom Wolfe
Dance
Opens at Fairfield University
September 2015
This exhibition examines the art of dance through the eyes of three gifted artists: sculptor Marc Mellon, painter Jane Sutherland, and photographer Philip Trager. Each of these artists has had a distinguished career, with numerous notable exhibitions across the country and artworks held in public as well as private collections, both in the U.S. and abroad. Though their expressive "languages" may differ, they all bring a keen eye, cutting intellect, and talented hand to their oeuvres, creating visual tours de force for their audiences to enjoy. Visitors to this show will relish a unique opportunity to see Mellon's classically inspired bronze sculptures of dancers juxtaposed with Sutherland's intriguing Little Dancer paintings; a series directly inspired by Edgar Degas's great work of this same name. Trager's silver gelatin and platinum prints of dancers – whether airborne or with bodies quieted into astoundingly expressive postures – rounds out this phenomenal triumvirate.
A broad range of Marc Mellon's dance bronzes are featured, including three over life-size works, several Martha Graham inspired bronzes, and the first public exhibit of Mellon's pas de deux bronzes inspired by choreographer Christopher Wheeldon's After the Rain. Also exhibited is his recently completed balletic bronze of American Ballet Theatre Soloist Cassandra Trenary, Cassandra Rising.

The Exhibition is on view through January 15, 2016.

Walsh Art Gallery
Quick Center For the Arts
1073 North Benson Road
Fairfield, CT 06824
Busts of Elie Wiesel Unveiled At Boston University and 92nd Street Y
September 2014
Marc's bust of Elie Wiesel was recently unveiled at the 92nd Street Y, a major New York City cultural institution and community center, referred to by Professor Wiesel as "my cultural home in New York." A second cast of the bust was also installed at the Elie Wiesel Center for Judaic Studies at Boston University.  "Creating a portrait bust of Elie Wiesel has been a dream project. I came to it with the greatest respect for his core messages to mankind. Ever watchful of our world, he has raised our awareness of violence and genocide across the globe, teaching that indifference to organized hate is not an acceptable moral choice. As he has often said, the opposite of love is not hate, but indifference. I wanted this portrait to reflect the complexity of the man, and hope that over time, this bronze will in a small way lead more people to Professor Wiesel's spoken and written legacy."
The Muhammad Ali Voice of Humanity Honor
Presentation of the first annually presented Muhammad Ali Voice of Humanity Honor.  MayMay Ali with the first award honoring Lonnie Ali and the Muhammad Ali Center, Louisville, KY
LeBron James Wins fourth Maurice Padoloff Award (NBA MVP Trophy)
May 2013
On May 5, 2013 Lebron James received 120 out of 121 first place votes from the eligible sportswriters and broadcasters to win his fourth NBA MVP Trophy, and his second while playing with the Miami Heat. His previous two trophies were won while with the Cleveland Cavaliers. The award, loosely based on the NBA's logo, was sculpted by Marc Mellon in 1986. The first recipient was Larry Bird, who in 1986 won the third of his three MVPs. Marc creates new bronze casts of the award each year for the NBA, and has also provided the WNBA with the WNBA MVP Trophy since the birth of the successful women's league in 1996. The artist also has provided the NBA with the Drazen Petrovic Trophy which has been used in international play. He is currently working on a new NBA Award, to be unveiled in June 2013. Stay tuned!
Bust of Bart Kaufman Dedicated
at new Bart Kaufman Field
Indiana University - Bloomington
April 2013
A bust of Bart Kaufman was featured at Indiana University, Bloomington's new state of the art baseball field on April 26, 2013 on the occasion of the stadium's formal dedication. Bart Kaufman graduated with a B.S. in business from Indiana University, majoring in life insurance, in 1962 and with a J.D. from the School of Law in 1965. He went on to become one of the foremost life insurance salespersons in the United States, and has supported numerous fund-raising efforts at IU. Bart has been a major patron of Marc Mellon's portrait works in bronze. He commissioned Marc to create his personal choices for a "Millennial Series of Greats of the 20th Century" with busts of Theodore Roosevelt, Albert Einstein, Muhammad Ali, Winston Churchill, and Ronald Reagan. He has also commissioned Mellon portrait busts for IU's campus, recognizing great "university builders" including Dick Johnson, who led in establishment the Johnson Center for Entrepreneurship at the Kelley School of Business, and Curt Simic, President Emeritus of the IU Foundation.
MUHAMMAD YUNUS
HONORED WITH ALBERT SCHWEITZER HUMANITARIAN AWARD
March 2013
Quinnipiac University presented its Albert Schweitzer Humanitarian Award to Muhammad Yunus, who founded the practice of microcredit as a means to combat global poverty before his March 6 lecture at the university. Yunus, who was awarded Quinnipiac's most prestigious humanitarian award, also accepted an invitation to join the Albert Schweitzer Institute's honorary board.
Bust of Hobie Billingsley, Legendary Diving Coach of Olympians, Unveiled at Indiana University, Bloomington
Hobie Billingsley Portrait Bust in Process
Wallace H. Coulter Award for Lifetime Achievement in Hematology
Commissioned by the Wallace H. Coulter Foundation. Wallace H. Coulter invented the Coulter Principle and developed the Coulter Counter, revolutionizing medical diagnostics. Awarded Annually by the American Society of Hematology and the American Association for Clinical Chemistry. In 2013 the WHCF will commemorate the 100th Anniversary of Wallace H. Coulter's birth and unveil full-scale galvanos of the medal at universities across America.
Chesterwood National Trust Historic Site Invites
Marc Mellon to be Sculptor-in-Residence
July 2012
By special invitation, Marc Mellon was Chesterwood's sculptor-in-residence for the month of July 2012 where he worked in Daniel Chester French's historic studio, designed by the architect of the Lincoln Memorial, Henry Bacon. Marc and his wife, Babette Bloch, fellow sculptor, have been frequent visitors to Chesterwood over the years and his over life-size bronze sculpture entitled Eve, was included in Chesterwood's outdoor exhibition Contemporary Sculpture at Chesterwood 1994.

Marc is a Fellow of the National Sculpture Society, where Daniel Chester French was a founding member of the organization.

Visitors to Chesterwood had the opportunity to see Marc work on his new dance series working with live models. "I enjoyed interacting with Chesterwood's visitors, answering quetions about my process, and how sculptors from Daniel Chester French's time to today work with clients on developing important public works.

Chesterwood is the former country home, studio and gardens of Daniel Chester French (1850-1931), America's foremost sculptor of public monuments, including the Minute Man in Concord, MA and the Abraham Lincoln for the Lincoln Memorial in Washington, D.C. This Historic Site of the National Trust for Historic Preservation is located in Stockbridge, Massachusetts. French and his family lived at Chesterwood from 1896 – 1931 during the months of May through October. The Site is open to the public from Memorial Day weekend through Columbus Day, 11am-4pm, seven days a week. Visit Chesterwood.org for more information about Chesterwood's upcoming special events and programs.
MorseLife Senior Campus Unveils Generations
Palm Beach Gardens, FL
In January 2012 MorseLife Senior Campus of West Palm Beach, Florida unveiled Mellon's 10' high Generations in their newly renovated atrium space. "I was very moved," says artist Marc Mellon "to see how the residents and staff of MorseLife immediately embraced Generations." According to MorseLife President and CEO Keith Meyers, "Generations adds a new dimension to our facility, bringing beauty and joy to the families we serve."
American Artist Magazine Features Artist Couple,
Marc Mellon and Babette Bloch, in Summer 2011 Issue
In an article titled "Sculpting a Marriage," American Artist Magazine featured interviews with Marc and Babette in their Redding, CT studios for their special "Studios" edition. The article included photographs of Babette's skylit design space and of her metal finishing space, as well as photographs of Marc's studio, complete with "sprung floors," 8' high mirrors, and 30' of north light.

The article was by Michael Gormley, Editorial Director at American Artist Magazine

American Artist Studios, 2011
Smithsonian Institution Commissions Mellon to Honor
Kenneth E. Behring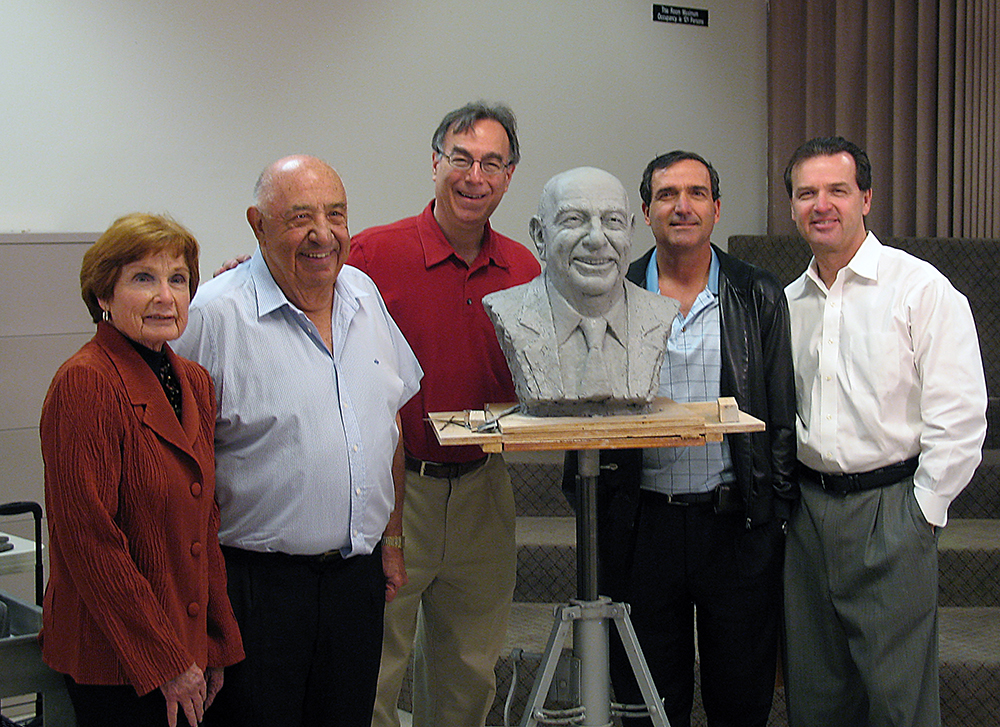 In October 2010 Marc was commissioned by the National Museum of American History, Smithsonian Institution, to create a bust of major Smithsonian Institution philanthropist Kenneth H. Behring.

The bust was sculpted in Danville California on the site of the Wheelchair Foundation, the foundation Mr. Behring established to distribute wheelchairs to the world's indigent.

Smithsonian Secretary Wayne Hough lead the proceedings to honor Mr. Behring and unveil the bust at the NMAH in June 2011, just before American History Day celebrations, which are funded by Mr. Behring.

The bust joins other works of Marc's in the Smithsonian's collection, including his bust of George HW Bush, in the National Portrait Gallery. The NMAH also houses Mellon's 2009 Official Presidential Inaugural Medal (portrait relief of Barack Obama), his Theodore Roosevelt Police Award (commissioned by the Theodore Roosevelt Association), and the 2003 Brookgreen Gardens Medal, From the Artist's Studio, To Nature's Gallery.

For more information on Kenneth E. Behring's global wheelchair foundation: Wheelchair Foundation
George eastman public art statue dedicated
October 10, 2009
University of Rochester, River Campus
The University of Rochester has unveiled an 8' high statue of George Eastman, whose vision and philanthropy helped transform the University of Rochester into a world-class university.

The statue was commissioned in conjunction with the establishment of the George Eastman Circle, a society of dedicated donors to the university. Over 3000 families have joined the GEC since it's recent establishment.

For the University of Rochester's news release on the statue please click here.

For a short video on the University of Rochester, the George Eastman Circle, and the commissioning of the Eastman statue, please click here.
Smithsonian Adds Mellon Medals to Medallic Art Collection
In 2011 two Mellon medals were added to the Smithsonian's important American Medallic Art Collection. The new additions were a silver medal portrait relief of Theodore Roosevelt, commissioned by the Theodore Roosevelt Association as their TRA Police Award, and a gold 3" strike of the Official 2009 Presidential Inaugural Medal produced in commemoration of the inauguration of Barack Obama.

Also in the collection is Mellon's 2003 medal for Brookgreen Gardens, America's oldest sculpture garden, From the Artist's Studio- To Nature's Gallery.
The 2009 Official Barack Obama Presidential Inaugural Medal
Soon after the election of Barack Obama, as the result of a national competition, The 2009 Presidential Inaugural Committee approved Mellon's portrait of Barack Obama for the 2009 Official Presidential Inaugural Medal. Sculptor and medalist Marc Mellon modeled the portrait of Barack Obama that appears on the obverse (front) of the medal. The reverse of the medal is by well-known medalist and former U.S. Mint engraver Thomas D. Rogers, Sr. The medals were struck by Medalcraft Mint of Green Bay, WI, considered to be one of the finest private mints in America. Sales of the medal raised funds for the inaugural events of January 20, 2009 in Washington DC.
Official Inaugural Medals have been coveted collectables going back to the beginning of the 20th century.  Theodore Roosevelt, feeling that the medal, and all of America's coinage, should reflect the highest standards of American art, asked the legendary sculptor Augustus St. Gaudens to design his medal.  Other well-known designers of the Official Inaugural Medal include Jo Davidson, who designed an FDR medal, and Paul Manship, who designed medals for both FDR and JFK. Mellon medallions have previously served to honor President Jimmy Carter (recipient of the Albert Schweitzer Award for Humanitarian Service) and former US Senate Majority Leader George Mitchell (awarded the  Ireland Chamber of Commerce in the United States Michael Smurfit Achievement Award for his work in helping to broker the peace treaty in Northern Ireland).
The artist tried to project a thoughtful and introspective Barack Obama.  Says Mellon, "I imagined Barack Obama thinking of Lincoln and of Martin Luther King, of the historic nature of his election, and of the serious challenges he was chosen to face." Below is an audio file of Marc being interviewed on National Public Radio (NPR) about The 2009 Official Barack Obama Presidential Inaugural Medal: